This has been a pretty tough year for our economy.  It seems that every headline is worse than the last and every industry is asking us, yes us, to bail them out.  I've met, and know, so many in my area that are effected by the slumping economy, either with jobs lost or just general business downturn, it can be tough to swallow.
As we get geared up this week for Black Friday, Cyber Monday and the beginning of the Christmas and holiday shopping season, I wanted to dive into consumers' behavior and how it is changing over this difficult time.  My thought was that more consumers are, and will be, shopping with coupons and more and more web traffic is going to these type of sites, the coupon and discount shopping affiliates.  What I learned, the more I researched, was that consumers are doing just that.  They continue to spend, but not without researching their purchase through coupon sites.  They want to make sure they get a deal.
I have broken my findings into three posts this week in hopes to get you all ready for Friday.  The first post, today's, is reporting what I was able to dig up on consumer's behavior.  The second will be published tomorrow and discusses the trend of of increased traffic to online coupon sites and gives some ideas for unique couponing strategies.  The third will release some data from a survey I conducted by polling the top coupon affiliate sites on the net and provides some of my recommendations for merchants.  Coupon sites will be more important to your online distribution the farther down our economy goes and I hope you get a lot out of this series.  So let's dive in…
Consumer's Changing Behavior
As recently as a few days ago, Anne D'Innocenzo, an AP retail writer, reported this:  "Americans have slammed their wallets shut since the financial meltdown, and the future is looking downright scary for stores across the country and the whole U.S. economy." Some more less than encouraging statements:
"The recent data has been startling: For the third quarter, consumer spending fell 3.1 percent, the worst performance in 28 years. Sales at established stores for October were the worst since at least 1969. The slump is continuing into November: Macy's says it expects a decline of at least 10 percent this month.  Even those with appetites for Prada and Gucci aren't immune. Among the hardest hit are luxury stores. Saks Inc. and Nordstrom Inc. reported same- store sales fell at least 10 percent. At Neiman Marcus Group Inc., the drop was nearly 27 percent." But how is this effecting coupon use and what changes are consumers making to combat this downturn?

According to the Wall Street Journal, this year was the first year coupon redemption did not decline.  For the last 15 years coupon redemption has fallen each year.  As our economy prospered, less and less coupons were redeemed.  But not anymore.  Last year it held steady.  Does this show a general trend in purchasing behavior?  How does this relate to online retail?
RetailMeNot commissioned Harris Interactive in March of this year, prior to the economy really taking a downturn, to conduct a survey on consumers' shopping habits during a recession.  In that survey they found that 54% of adults would decrease discretionary income during a recession and 63% of consumers WILL NOT make a purchase if they cannot find a deal.  From their press release: "Coupons are a household staple for many Americans–the survey found that the vast majority of adults (86%) have used coupons and/or discount codes while shopping. However, this figure may soon rise as the economic slowdown prompts many consumers to reevaluate spending behaviors and place a higher priority on budgeting and deal-seeking. More than one in three adults (37%) said that, during a recession, they would increase the use of coupons and/or discount codes; among women, the figure was even higher at 43% (vs. 31% of men). Retailers have an opportunity to bolster sales and preserve customer loyalty by rewarding savvy shoppers with discounted merchandise."
In another survey done by Principal Financial, and reported by Inc.com, more than half of the respondents said they were cutting back on spending due to the economic environment.  That was in June, it's only gotten worse since.  "That has many Americans eating out less, relying on generic brands and clipping coupons in efforts to save, the survey found."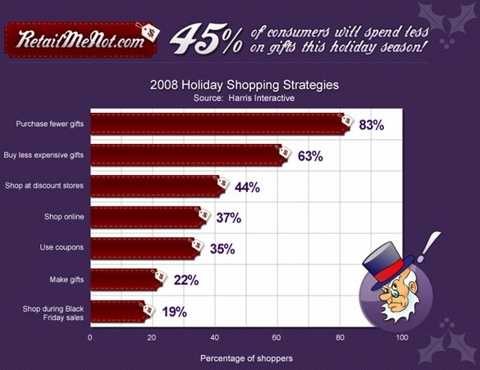 RetailMeNot again worked with Harris Interactive in October to release this report.  In it they confirm their first results (since we are arguably in the first quarter of a recession): "nearly half of online adults (45%) plan to spend less money on gifts this holiday season compared to last year given the current state of the economy and one in five plan to spend significantly less."  They also reported that 19% will shop during Black Friday deals, 44% will shop at discount stores, and 37% will shop online to save gas.
The Washington Post reported that coupons are now coming back in favor.  "With wages not rising as quickly as the cost of basic necessities, coupons are back in favor after many years of steadily declining popularity, experts said."  … "Were we not in this economy, we probably would be looking at a slight decrease again,'' said Matthew Tilley, co-chairman of the Promotion Marketing Association's Coupon Council and director of marketing for CMS. "There's definitely an increased interest to use coupons for savings by consumers.''
It's being widely reported that consumers are shifting their buying habits.  As the articles I referenced above point out, more and more consumers are no longer purchasing a product without researching to ensure they have the best deal.  They are using coupons in larger numbers, purchasing items without them less frequently and generally planning for a prolonged downturn in the US and global economies.  But consumers continue to shop, that is the good thing.  They continue to plan to spend money this Christmas, but are doing it more wisely and making sure they have a discount prior to making that purchase.
But how does that relate to online coupon sites and merchants' participation there?  I'll explore how traffic to these sites has been increasing dramatically and how merchants can, and should be leveraging this shift to weather the storm in my next post tomorrow.
2nd post in series – Consumers flocking to coupon sites.