I have had countless conversations with clients in which the entire focus quickly became how much they disliked, discredited and hated coupon affiliates
Coupon affiliates. These two words alone are enough to drive some of us crazy.
There is definitely a lot of emotion attached to the coupon category of affiliates. My sales team, our managers and I have had countless conversations with clients in which the entire focus quickly became how much they disliked, discredited and hated coupon affiliates—and were annoyed that this category even existed. I use those strong words for a reason; there are many, many, many advertisers who feel this way about coupon affiliates.
Now, there's a lot of real-world experience that goes into those beliefs. I've also been quite frustrated by this, and other categories, of affiliates in the past. Still, I've always felt that this view of coupon affiliates is based on an emotional reaction to what we "feel" or "think" about them rather than concrete evidence.
we owe it to ourselves to explore the bigger questions about how we choose which affiliates to work with
No matter where you currently fall on the "love-hate coupon affiliates" spectrum, we owe it to ourselves to explore the bigger questions about how we choose which affiliates to work with: Are we left to rely on feelings when evaluating partner performance, incrementality and the overall value of an affiliate or even an entire affiliate category? Is our gut the only thing we have at our disposal to help us make good budget allocation decisions?
I know for me, in my own life, purely emotional decisions are usually reactive in nature. I end up missing quite a lot when I operate solely from an emotional mindset. I love using data for this reason. It's clear, at least usually. It has no emotion tied to it. And when we look at it objectively, we usually make better decisions. The data on coupon publishers has to be out there, right?
There has to be some data we can look at to determine the value of the coupon category, yet it's too often missing from affiliate strategies. So, in an effort to get more clarity on this issue—and since I haven't actually managed a program personally in quite some time, thanks to the amazing team that I have had at JEB—I reached out to my team and to others in our industry to see if there was data that sheds some light on the coupon affiliate topic.
Here's what I found.
Framing the coupon affiliate debate
grouping all the coupon-type affiliates into one "coupon" category really no longer works
One thing to note before we dive into data: grouping all the coupon-type affiliates into one "coupon" category really no longer works. After many discussions, emails and sit-downs with JEB's affiliate managers, I've determined that there are three categories, or type of affiliates, that people typically roll up into the "coupon" category:
Coupon aggregators, who supply consumers with ALL the coupons; these are traditionally what people think of when they say "coupon sites."
Paid search arbitrators with coupon sites, which includes affiliates who want trademark terms to bid on and drive the vast majority of their traffic this way; a better way to describe them may be "search affiliates."
"Best of web" deal sites, which cultivate the best deals on the web for many categories; these guys rely on this cultivation to create an environment where consumers discover new brands and products.
You also could argue that there is a fourth type: browser plugins like Honey.
Now, I believe that when we hear advertisers talk about the dreaded coupon sites taking credit for orders they already had, they're really talking about coupon aggregators. I've confirmed this with many of the individuals and organizations I spoke with to compile this data. Paid search arbitrators would really be handled as paid search affiliates. And "best of web" deals sites overwhelming were viewed by our clients in a high esteem.
Those sites are perceived to do quite a bit more than the others to introduce new brands and products to their user base and provide a different level of incrementality than the other two. Advertisers in general seem to love this category. I believe it's because they are perceived to be doing a lot more to generate incremental revenue, unique traffic to their sites and value to the advertiser.
To reiterate, there are four main problems that advertisers have with coupon sites:
They don't provide incrementality.
They don't actually do anything to win the user for the brand.
Users have been trained to go back to Google and search for a coupon after they have made a decision to purchase, increasing the advertiser's cost and providing no value for that cost increase.
They lessen the brand in the eyes of the consumer.
Why is this a problem worthy of discussion rather than just a common grievance? According to a Rakuten Marketing report, "Waste is still prominent in marketing spend in 2018. According to our study, marketers estimate they waste 26% of their marketing budget on the wrong channels or strategies. Advocates exceed this figure by 2%, while Architects are only prepared to admit to wasting 18% of budget.
75% of marketers would switch ad spend from one platform to another for better reach
Despite the waste, 75% of marketers would switch ad spend from one platform to another for better reach. Just 36% chose better performance tracking, a vital element in establishing the mix of marketing channels that will turn the greatest return on investment."
In order to understand who is an architect or advocate you'll need to read the entire report. But regardless, wow! More than one-quarter of marketers' budgets is being wasted? If 75% would switch ad platforms, I think it is safe to say they would move budget from one category of affiliates to another to be more effective with their spend. I'd say 26% is a big problem.
The data we'll share below will give you quite a bit to chew on. Like I said earlier, hopefully it will help you make decisions on your advertising spend.
So, let's talk incrementality and new users.
Diving into the data
In order to get to the bottom of how we form, and validate, our hunches about coupon affiliates, I looked to the JEB team and others in the industry. During my research, I didn't ask how anyone felt. Instead, I asked what data they had to show the value—or lack thereof—of this category of affiliates.
I reached out to all the major networks, the top 15 coupon-type affiliates, some unique affiliates that offer coupons, and a few of our clients. I was hoping to have all the stakeholders in the affiliate channel represented in my exploration. I have to say a huge thanks to the networks—Linkconnector, Commission Junction, Linkshare and Partnerize—who provided some amazing data, both broad and deep.
One group that I hoped would have been able to provide more insight but didn't was the affiliates themselves. I was disappointed that they weren't able to participate, but many said they would be able to after Q4. I had hoped beginning this in September would provide enough time, but it looks like participating proved to be too much as they geared up for the very important quarter ahead.
Data on incrementality and value created
Here's one of the first sets of data I uncovered in my research: A JEBCommerce client in the consumer goods category wanted to know how effective two of the biggest coupon affiliates were in driving sales they would not have had without them. To be transparent, this client felt the coupon affiliates provided little value; it wanted them out.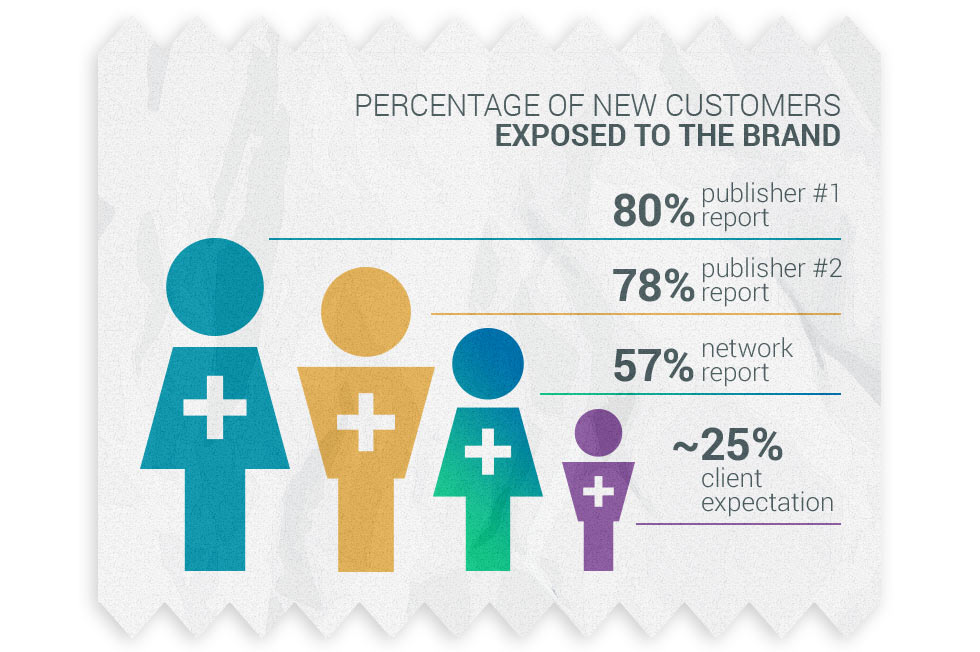 One key measurement they use is new-to-file customers, or customers who have never shopped with their organization before. For the period of Jan. 1 through Aug. 7 2018, the top coupon site—you know their name, and you most likely have a bit of disdain for them—generated 80% new customers through its site. That's triple the client's expectation.
The second biggest coupon/loyalty affiliate in the program generated 78% new customers. After reviewing the data further, we discovered that the majority of the customers in each instance had no visibility into this brand prior to the click from both of these websites—more than 65% in both cases. That's a significant amount of new customers introduced and closed by these two affiliates. The client chose to keep those affiliates.
Comscore and Google released a much-anticipated study at CJU that spoke to this very issue (thanks to CJU for supplying this). In the study, Google shared that 94% of transactions driven by coupon affiliate paid search ads were incremental—meaning, the customers were not already on the retailer's site before they searched for a coupon. Just 6% of purchasers were already on the retailer site before clicking on a coupon ad.
a significant amount of new customers (were) introduced and closed by these two (coupon) affiliates
When I saw that data, I really had to take a step back. There are a few key things to note here: First, 94% of transactions were incremental, and that definition is pretty clear here. They were not on the advertiser's site. Furthermore, this was also a study by Google and Comscore.
That is important to note because one of the big critiques of data sets in our space is that they have been published by parties with an incentive to show the channel in a positive light. I don't believe this is the case for Google or Comscore; I think it's safe to trust that data. And finally, this challenges the biggest knock on coupon affiliates: that they are only there after the purchase decision is made as the user leaves the cart, goes to find a coupon, then reenters the cart through an affiliate link, allowing said affiliate to get the credit.
Under that common argument, no value is created by the coupon affiliate. But the Google and Comscore study data shows overwhelmingly that that is not the case. Compelling data, isn't it?
coupon site-originated purchases were 57% more likely to be new users
Partnerize also shared some data along these lines with me. Across their platform, coupon site-originated purchases were 57% more likely to be new users than customers who converted from other channels.
Another way to measure incrementality is by size of the order. Do coupon affiliate orders tend to be larger or smaller than other affiliates' orders? Do they have more items per order?  Essentially, we can frame the question this way: Do coupon affiliate customers purchase more or exhibit more favorable purchasing behavior than the customers from other type of affiliates?
The team at Linkconnector shared a tremendous amount of data with me for this article. In turn, I'll be sharing much of it with you. In regard to incrementality, they reported the following:
AOV is 14% higher when a coupon is used, network-wide
69% of events from coupon affiliates involve some sort of coupon
31% of purchases from coupon affiliates are full-price buyers
In other words, 31% are not shoppers who are only looking for a deal. Nearly 1 in 3 are full-price, non-discount purchasers.
Coupon shoppers who clicked on a coupon ad were more than twice as likely to purchase
The Google/Comscore report sheds additional light on the issue, finding that over a six-month period:
26% of coupon users completed two more transactions, from the same retailer, than non-coupon users
27% of those coupon users completed three more transactions, again from the same retailer, than non-coupon users
33% of those coupon users completed four more transactions from the same retailer than non-coupon users
Advertisers realized 5% more revenue per coupon user when compared to general shoppers over a six-month period
Coupon shoppers who clicked on a coupon ad were more than twice as likely to purchase and convert on an advertiser's site! Again, this comes from the Comscore/Google study.
Data on commission stealing
Another often-discussed area of performance within the affiliate channel is the customer's path to purchase. Do coupon affiliates only come in at the end to "steal" a commission after the consumer is already on the site, or are they a bigger part of the process? To dive deeper into the issue, let's see what the data shows.
Linkconnector provided a wealth of information on the behaviors of customers shopping through advertisers on its network. Here's a bit more of that data:
Coupon affiliates are an introducer in the purchase funnel 27% of the time when multi-credit events are in play (LinkConnector's clickstream data)
69% of the time, cookies from coupon affiliates occurred before the user entered the shopping cart window, meaning they introduced and promoted the user to the cart in more than 2 of 3 cases. If you value introducers, it's also important to note that two-thirds of coupon purchases could be introduced by that same coupon affiliate.
Coupon affiliates were part of purchase funnel (outside of being a closer) 53% of the time. (LinkConnector's clickstream data)
Based on the third bullet point above, it's safe to say the coupon affiliates contributed, influenced or introduced—but did not close—the deal.
rarely, if ever, is there discussion on when (coupon) affiliates introduce and influence
A personal note on this point: When the discussion of category value comes up, the issue of coupon affiliates closing the deal when others have introduced and influenced almost always comes up. But rarely, if ever, is there discussion on when these affiliates introduce and influence but don't close. Shouldn't it go both ways when determine value of a partnership?
Within this discussion of path to purchase is the concept of cart sniping, discussed above as stealing commissions after the consumer is already on the site.  Partnerize was kind enough to wrap a bit of narrative around its data:
TIME TO CONVERSION: We use time to conversion as a measure of whether people are visiting a coupon site after, say, deciding what and where they are going to buy, in order to see if there is an available discount. The prevailing assumption among those who believe that coupon sites are subsidizing current users is that the time to conversion would be quite short.  
So, for instance, if the time to conversion were 10 minutes, we could perhaps assume that people were engaging in the unwanted behavior described above. That is NOT the case. The average time to conversion, while shorter than the average for other types of sites, is still almost a full day (18 hours)."
Data on brand perception
One of the downsides of coupon affiliates cited by those of us who don't like working with them is that it diminishes the brand's identity in the mind of the consumer. But if you look at the data on general coupon behavior below, is that actually true?
Here's some data from the Google/Comscore study:
200 million coupon searches in Google each month
More than 50% of those contain a brand name
Digital coupon penetration is estimated to reach 55% of the U.S. population
Customer-preferred coupon usage breakdown

30% prefer in store/mobile
20% coupon app
19% coupon website
18% browser extension
12% credit card cash back offers
Here's LinkConnector data on general coupon behavior:
54% of transactions in LinkConnector have a coupon involved, across all affiliates (not just coupon affiliates)
when a coupon is used in a transaction, only 48% of those transactions are attributable to a LinkConnector affiliate
When a coupon is used, and it is attributable to a LinkConnector affiliate, 41% are private coupons—private to only one affiliate created by the merchant
And again from our friends at Partnerize:
PURCHASE REJECTION RATE: We sometimes think of the rejection rate for conversions as a measure of the quality of traffic and data from partners. Accepted or valid sales are an indicator that the site delivers real, authenticated purchases. As you know, in our industry rejection rates tend to be quite low across all major publishers. That is great evidence of the quality of our category.
Further, when we compared the rejection rate for purchases made from coupon sites versus other sites, we saw that coupon site rejection rates were 25% LOWER than average. I believe that this is because coupon sites tend to be that largest and most sophisticated affiliates.
So does it really diminish the brand if so many of consumers are searching for and redeeming coupons?
Rethinking the common perceptions on coupon affiliates
Our research dug up quite a bit of real data around coupon affiliates. Some key takeaways:
Sales driven by coupon customers are more incremental than previously thought (as reported by several different organizations including Google, Linkshare, Linkconnector and Partnerize)
Paid coupon search ads play an important role in engaging shoppers and encouraging them to take action (aka, convert)
Coupon sites also influence and introduce customers to new brands
Coupon sites can be a huge new customer acquisition tool
The data in this article offers very compelling evidence that coupon affiliates are not stealing commissions at the end of the purchase path, but in fact introducing new users and converting them for the advertiser
We may be making emotional decisions about a large category of affiliates and not taking into account data that often shows coupon affiliates produce more value than given credit for
Coupon affiliates. You probably began this article not thinking very highly of this category. And perhaps you're still not a fan. But is this data compelling? Has it changed your mind in any way?
Now, we all have to make our own decisions on budget spends in order to achieve our financial goals and some level of spend efficiency. My hope is that I've provided some compelling and interesting data that you can incorporate in your budget decisions to grow a large and profitable affiliate program.
If you need any help determining the right affiliate publisher mix or whether your affiliate program is profitable or not, let us know. We'd love to help you! And again, a special thank you to the teams at Linkconnector, Commission Junction, Rakuten Marketing, and Partnerize for sharing such thorough and compelling data.